Hytera Coverage Report - Don't Accept Blackspots in Your Network
We recently carried out a survey with Facilities Management Journal, speaking with personnel looking after some of the biggest sites in the UK. We discovered that a shocking 45% of businesses are experiencing blackspots (or dead zones) in their communication systems, where their two-way radio coverage drops out.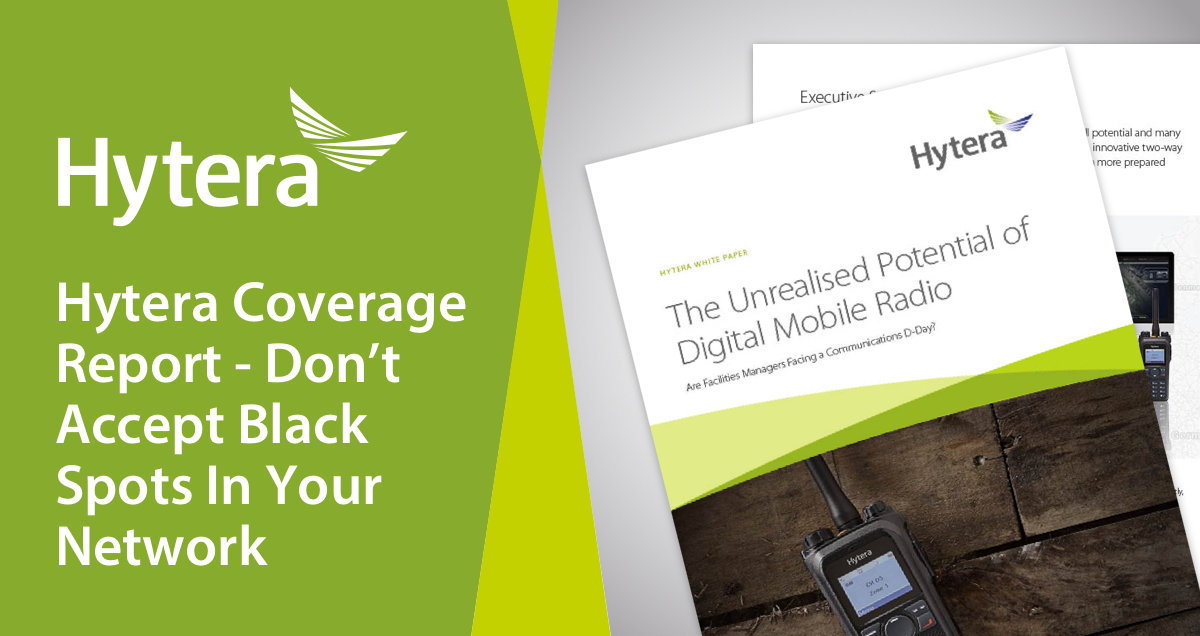 Communication blackspots can occur due to a variety of factors, e.g. behind concrete walls or near the end of the signal range. In addition to this, nearly 40% of businesses have also experienced poor sound quality or issues with battery life, meaning critical communications may be lost either due to background noise or extended use.
Poor Radio Engineering a Problem
The core problem behind many of these blackspots is poor radio engineering, in other words, the radio network hasn't been deployed correctly and the user organisation are putting up with the issues rather than challenging the unacceptable norm.
The first step would be to contact an authorised radio dealer and have them carry out a technology and coverage audit. This would give you a good idea of the topography challenges around your sites, and why the issues are occuring with your current radio fleet and set-up.
Recommendations can be made for simple fixes where available, from replacing cables or antenna, to adding strategically positioned (or moveable) repeaters around the site to improve and extend coverage. An upgrade to the latest digital technology would further reduce the chance of blackouts, but would equally bring with it additional benefits to improve capacity, clarity and battery life.
Digital Technology – Safety & Productivity
Digital Mobile Radio (DMR) is the modern standard in workplaces where communication is critical. With the appropriate specification of the latest handests and repeaters, a DMR two-way radios can eliminate blackspots across your facility, but equally provide a number of other benefits:
More rugged – Hytera's radios can withstand drops and knocks, unlike modern smartphones
Greater clarity – With the latest processing and noise cancellation technology
Safety features – e.g. Lone Worker, Man Down, Emergency Buttons
Group Call & Priority Channels - ensuring critical comms are always received
GPS - Location based services and data monitoring
A digital system can even be set up across multiple sites. For instance, when Hytera's DMR system was deployed across Central Nottingham College, seven campuses were linked for Facilities Managers to communicate between departments and locations.
What's more, blackspots were eliminated across the whole College, even in the so called 'dead spot' building which had previously been written off by the estate. Don't accept blackspots and coverage issues, upgrade your two-way radio system today.
To read more about the findings in our research, download our White Paper, The Potential of DMR.

To discuss your requirements with an authorised Hytera dealer, head over to your find a dealer page and enter your postcode to locate your local provider.