Hytera Launches Next-gen DMR Radios with Abundant Features in Indonesia
The next-gen H Series DMR radios undergo a refresh with a new modern design, advanced features, as well as competitive prices, to maximize the operational efficiency and safety of various industries in Indonesia.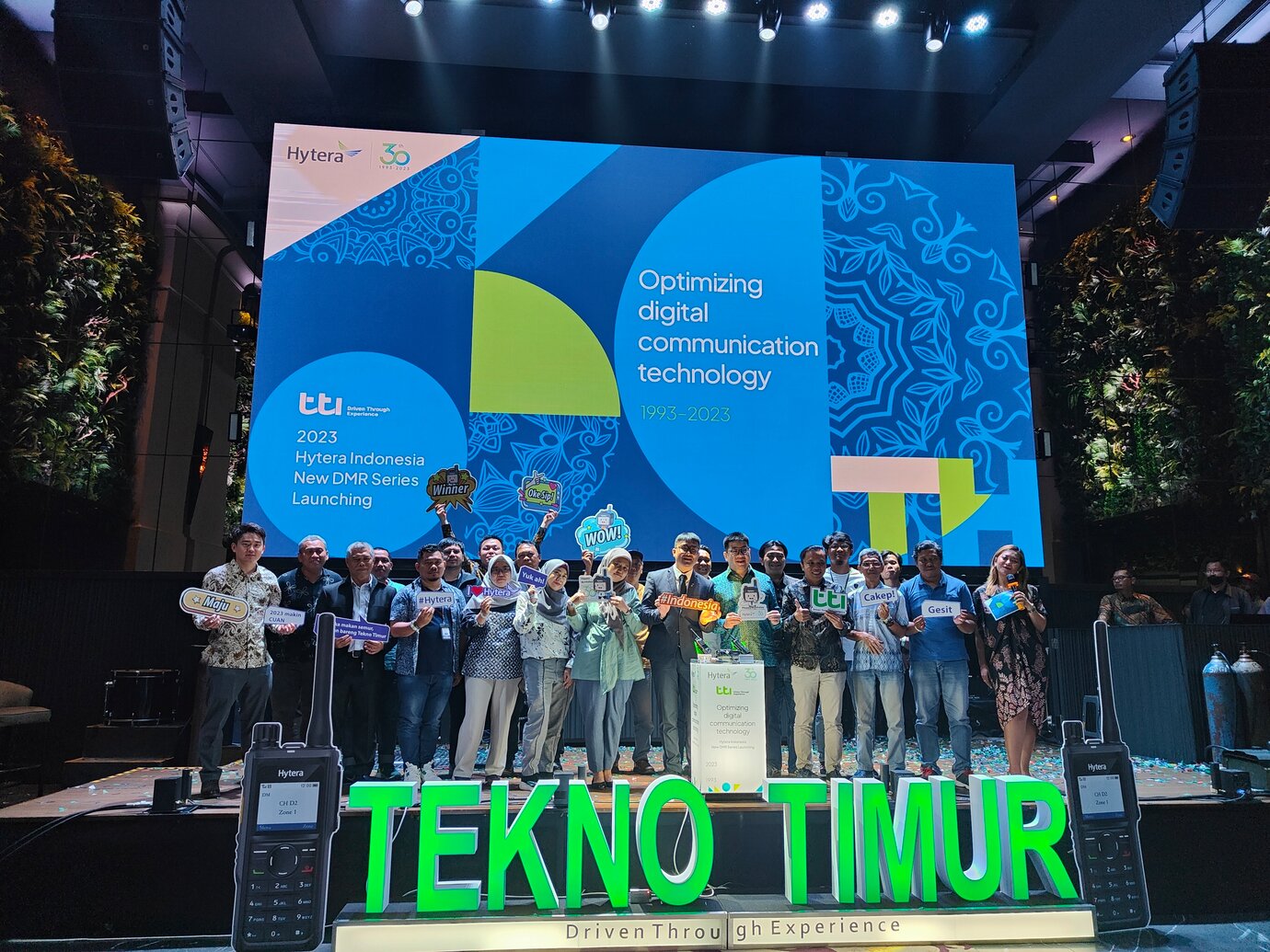 Jakarta, Indonesia - March 17, 2023 - Hytera Communications (SZSE: 002583), a leading global provider of professional communications technologies and solutions, today launched two Professional Portable DMR (Digital Mobile Radio) two-way radios, namely the HP5 and HP6 series, and the HM6 series Professional Mobile DMR two-way radio at the launch ceremony in Jakarta. The distribution of the new products in Indonesia will be handled by PT Teknologi Timur Indonesia (TTi) which has rich experience in distributing digital products and an extensive network in the country.
The new H Series digital professional DMR two-way radios come with an updated modern design, a new set of advanced features, as well as competitive pricing, to maximize company operations across various industries in Indonesia. The HP5 series are rugged, portable two way-radios, providing reliable voice communications for office buildings, stadiums, industrial parks, schools, hospitals, and more. The compact and light HP6 series offers clear, wide-reaching sound, a powerful battery, solid durability, and abundant features. The HM6 is noticeably compact and lightweight, easy to install in vehicles, and has a high sensitivity for clear, reliable communications, even in weak and unstable signal areas.
The launch of the new DMR two-way radios coincided with Hytera's 30th anniversary in the professional communications industry. The new H Series stands as a true testament to Hytera's commitment to continuous innovation to develop communications solutions that best understand the challenges of users in various industries, such as energy, transportation, utilities and commerce.
"Today, we celebrate a special occasion for Hytera - 30 years in the communications industry. The launch of the three H Series devices marks our commitment to continue to innovate in the next generation of digital radio technology, and provide solutions that can maximize employee productivity and company operations," said Mars Li, Sales Director of Hytera ASEAN. "We believe that working with PT Technology Timur Indonesia will allow us to contribute even more in optimizing the digital communications technology of Indonesia."
During the launch ceremony, Daniel Tirto Utomo, Director of PT Teknologi Timur Indonesia, expressed great enthusiasm in distributing Hytera's professional communications solutions and in creating market breakthroughs with the new innovative solutions. "With extensive experience and network, TTi is committed to helping the expansion of the newest Hytera's H Series in Indonesia with strong pre-sales and after-sales services so that customers can use Hytera products in peace of mind and enjoy abundant breakthrough technologies to streamline operations and increase the efficiency and productivity of its employees," said Daniel Tirto Utomo.
The launch of the new Hytera H Series offers a superior hardware platform and software architecture for improved performance and user experience. Hytera's commitment to continuous improvement and innovation is evident in the H Series, which delivers a professional and advanced solution that can be scaled across workforces. It is expected that the H Series will serve advanced features that are easily accessible and maximize operation efficiency and safety of organizations.