Security and Public Safety Events 2018
This year Hytera Communications will be present at a range of Security and Public Safety events with Sepura or Supporting Partners to showcase the latest innovations.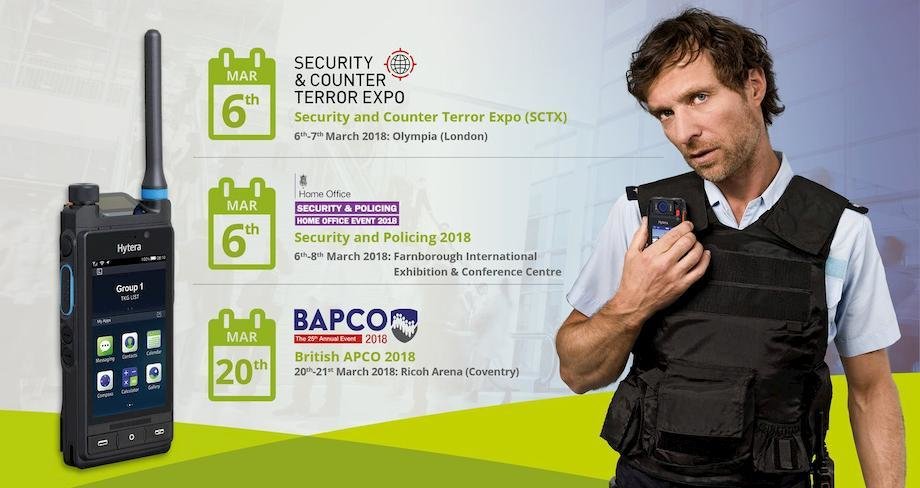 Security and Counter Terror Expo (SCTX)
6th-7th March 2018: Olympia (London)
Hytera Communications will be supporting two-way radio specialists Roadphone NRB and Servicom Ltd who will be showcasing a dedicated range of digital handsets and mission critical systems at the UK's leading national security event; Security and Counter Terror Expo (SCTX).
To be held at Olympia: London on 6TH – 7TH March 2018, this event provides an invaluable platform enabling security professionals in private and public security sector to see and demonstrate the latest innovations and solutions from Hytera to protect civilians and businesses.
Roadphone NRB will be on Stand 2-A40 with the reliable and resilient communication solution; Hytera DMR Tier III System with Endurance Technology, along with a range of handheld portables including the latest innovations from Hytera; the PDC760 Multi-mode radio and VM685 Body Worn Camera. Servicom Ltd experts will be available on Stand 2B30 showcasing a range of Hytera DMR handheld portables.
We look forward to welcoming you to discuss your individual needs and we are confident that we will offer you the innovative, reliable communication solutions you are looking for.
Click HERE to register a free pass to the event

Security and Policing 2018
6th- 8th March 2018: Farnborough International Exhibition and Conference Centre
The official UK Government global security event takes place 6th-8th March 2018, at Farnborough International Exhibition and Conference Centre.
Trusted by governments and critical national infrastructure organisations throughout the world, Hytera and Sepura specialist communication solutions provide highly secure voice and data encrypted communications, crystal clear coverage in any environment and instantaneous communication with other emergency services and civil protection agencies.
Our experts will be on stand C46 holding live demonstrations of the latest products and solutions showcasing TETRA and Hybrid LTE devices. Utilising the most popular communications standards, we can ensure that whether you are upgrading or migrating your communication solutions, our team will help you find a secure and reliable solutions.
We look forward to seeing your there to discuss your communication requirements.
Click HERE to register your interest to attend this event.

British APCO 2018
20th-21st March 2018: Ricoh Arena (Coventry)
BAPCO Annual event is recognised as the UK's leading public safety event; an event suitable for anyone working in critical communications.
This year Hytera and Sepura experts will be at Ricoh Arena, Coventry on stand F5; exhibiting and showcasing the latest two-way radio technology ready to meet the challenges of modern public safety and security users. From the latest TETRA terminals and accessories certified for Airwave, to the innovative Hytera Body Worn Camera and Multi-mode digital radio and LTE devices, we look forward to welcoming you along to discuss your individual communication needs.
Click here to register for a free entry ticket for BAPCO Annual Conference and Exhibition 2018