Highlights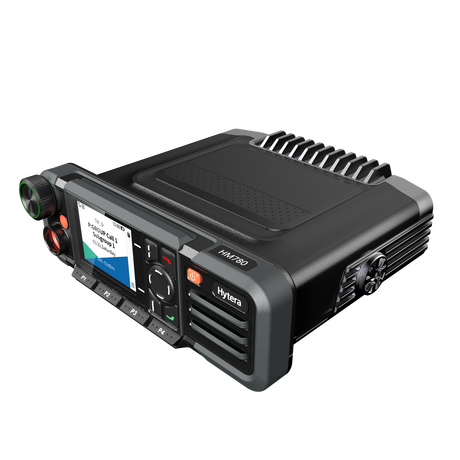 2.4-inch screen
simple UI interaction assists in operating quickly
Built-in BT 5.0
allows wireless accessory adaptation and data transmission
Built-in speaker
assures clear and loud voice even without an external speaker
Accessory Port
Functions
More Flexible
Flexible control heads and accessories allow installation according to the users requirements with a cable length of up to 40m .
Clearer Audio
Adopts AI noise cancellation technology to filter out background noise (such as road noise), eliminate echoes, enhance speech and reduce howling when in close proximity to the transmitting radio. With this technology, the mobile radio provides crisper and clearer audio when transmitting and receiving voice calls.
More Reliable
Improved receiver sensitivity improves audio quality in weak signal areas to provide clearer audio
Rich Scalable Application
Supports multiple connections through BT,and the accessory and network (Ethernet) ports. It also supports Clarity Transmission and back to back connections which will greatly facilitate your solutions.
Antenna
Charger & Power
Cables
Mounting
Audio
Related products that work with the HM788
Technical Specifications
General
Frequency Range

UHF: 350-470 MHz VHF: 136-174 MHz

Channel Capacity

1024

Operating Voltage

+13.6v ± 15%

Dimensions(W×H×D)

61.5 x 177 x 179 mm

Weight

1520g

Display

2.4 inch LDC display
Receiver
Sensitivity

Analogue: 0.18µV (12dB SINAD)
Analogue: 0.16µV (12dB SINAD) (typical)
Digital: 0.18µV / BER 5%

Selectivity

TIA-603: 60dB @12.5kHz / 70dB @20/25kHz
ETSI: 60 dB @12.5kHz / 70dB @20/25kHz

Inter-modulation

TIA-603: 70dB @12.5/20/25kHz
ETSI: 70dB @12.5/20/25kHz

Spurious Response Rejection

TIA-603: 70dB @12.5/20/25kHz
ETSI: 70dB @12.5/20/25kHz

Blocking

TIA-603: 80 dB
ETSI: 84 dB

Hum and Noise

40dB @12.5kHz; 43dB @20kHz; 45dB @25kHz

Related Audio Power Output

internal (20 Ohm load): 3W
external (8 Ohm load): 7.5W

Max Audio Power Output

internal (20 Ohm load): 8W
external (8 Ohm load): 20W

Rated Audio Distortion

<3%

Audio Response

+1 to -3 dB

Conducted Spurious Emission

< -57 dBm
Transmitter
RF Power Output

Low Power UHF: 1-25W; VHF: 5-25W
High Power UHF: 1-45W; VHF: 5-50W

FM Modulation

11K0F3E @12.5kHz
14K0F3E @20kHz
16K0F3E @25kHz

4FSK Digital Modulation

12.5kHz data only: 7K60FXD
12.5kHz data and voice: 7K60FXW

Conducted/Radiated Emission

-36dBm @<1GHz; -30dBm @>1GHz

Modulation Limiting

±2.5kHz @12.5kHz; ±4.0kHz @20kHz; ±5.0kHz @25kHz

FM Hum and Noise

40dB @12.5kHz; 43dB @20kHz; 45dB @25kHz

Adjacent Channel Power

60dB @12.5kHz; 70dB @20/25kHz

Audio Response

+1 to -3 dB

Audio Distortion

<3%

Digital Vocoder Type

AMBE+2

Digital protocol

ETSI-TS102 361-1,-2,-3,-4
Environmental Specifications
Dust & Water Intrusion

IP54
Location Service
GNSS

GPS, GPS+GLONASS, GPS+BDS

TTFF (time to first fix) cold start

< 1 minute

TTFF (time to first fix) hot start

< 10 seconds

Horizontal accuracy

< 5 meters