Highlights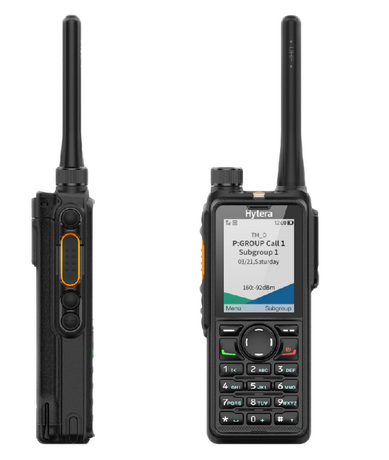 Buttons
Tactile PTT, three programmable buttons and more shortcut function settings.
Longer battery life
The 28-hour long battery life ensures a full day of delivering key information and calls, truly reduces the burden and increases efficiency for users, and with an anti-counterfeiting function, safety is more guaranteed.
More intuitive and efficient
A 2.4-inch color display with two notifications and a content preview on the home screen. The graphical interface is more intuitive, messages are listed in conversation and a Quick Access Menu to access frequently used menus.
Louder and clearer audio
AI-based noise cancellation reduces background noise and enhances speech. The anti-magnetic design prevents the absorption of metallic waste generated in heavy manufacturing facilities.
Ehanced Coverage
HP788 UL913 intrinsically safe radio has improved sensitivity and extended conventional coverage, allowing the setup of each call, the delivery of each message, and the report of each location in every moment that matters. The increased coverage also improves user security in a cost-effective way.
Easy Operation
Unified knob for channel and volume selection,360° smart knob and multiple programmble buttons for easy operation.
Functions
UL913, CSA and TIA4950 Certificated Intrinsic Safety Radio
Hytera HP788 UL913 intrinsic safety radio is designed upon the requirement of USA UL913, Canada CSA and TIA4950 standards. The radio works safely in hazardous environments with explosive gas and dust particles.
CLEAR AND BRIGHT DISPLAY
The HP788 features a 2.4-inch, 240x300 HD TFT-LCD display with up to 10 lines of content and an intuitive nine-grid interface. The display supports 262,000 colors, and is clearly visible in sunlight.
Large and Distinctive Buttons
HP788 UL913 intrinsically safe digital radio has a tactile PTT button and a large emergency button for blind operations in challenging environments, allowing operatives to summon help from their companion or control centers in case of emergency as soon as possible.
Safety Features You Can Rely On
The radio supports optional digital mode Lone Worker, Man Down and Emergency Button with call interrupt as programmable features. These safety features ensure an alarm is raised, even if the channel is already busy.
Smart Explosion-proof Battery
The radio supports a smart Explosion-Proof battery, which makes it easier to monitor the battery status, such as lifetime, charging time, etc. The Explosion-Proof Battery Identification feature helps users avoid potential safety hazards caused by the use of non-Ex batteries.
Accessories for HP788 UL913
Audio
Cables
Charger & Power
Carrying
Mounting
Battery
Related products that work with the HP788 UL913
Technical Specifications
General Specs
Frequency Range

UHF: 350-470MHz
VHF: 136-174MHz

Channel Capacity

1024

Zone Capacity

64

Operating Voltage

7.4V (rated)

Battery

2850mAh Li-ion smart anti-counterfeit

Battey Life (5/5/90 Duty Cycle,High TX Power)

29 Hours(GNSS OFF), 25 Hours (GNSS ON)

Dimensions (H x W x D)

132 x 55 x 36.5mm

Weight (with antenna and battery)

389g

Display

LCD, 320×240 pixel, 262000 colors, 2.4 inch

Keypad

Full keypad

Bluetooth

5.0 BLE+EDR

Dust & Water Intrusion

IP68

Anti-explosion levels

Class I, II, III, Division 1, Groups C-G, T4, -30°C to 60°C Class I, Division 2, Groups A-D, T4, -30°C to 60°C
Environmental
Operating Temperature

-30℃~+60℃ (Radio only)

Storage Temperature

-40℃~+85℃

Dust and Water Intrusion

IP66 / IP68

Humidity

MIL-STD-810G

Shock and Vibration

MIL-STD-810G