Highlights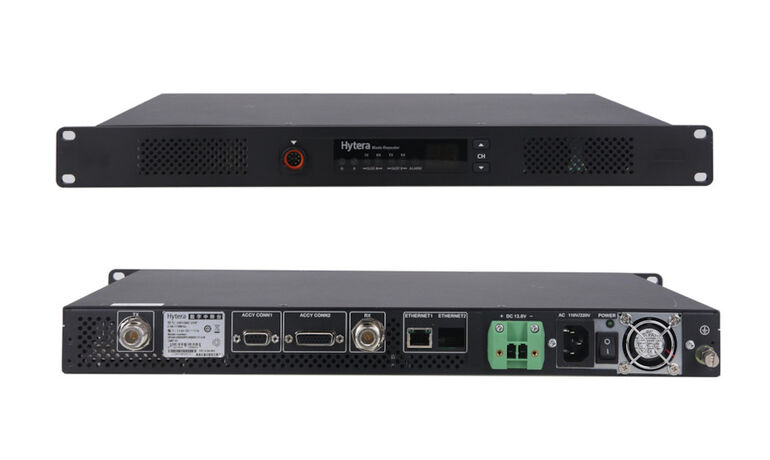 Audio/Programming Port
Operation Status Indicator
Channel Display
TX Antenna Connector
Accessory Connector
RX Antenna Connector
USB Port
DC Power Inlet
AC Power Inlet
Functions
Ultra-thin Modular
The 1U height of the HR1068 series makes it compact, thus reducing space requirements for installation.
Outstanding Performance
Enhanced version with additional co-processor provides increased processing speed to increase data processing.
Cost-effective network construction
The enhanced version of HR1068 can support integrated router and SIP gateway functionality, requiring fewer devices and simplified management and offering a cost-effective solution.
Convenient Management
In the enhanced version a web-based repeater management platform has designed to simplify repeater management. Configuration, upgrade and real-time diagnosis can all be completed through a web browser, which is ideal for remote management.
Related products that work with the HR1068
DMR Applications
Technical Specifications
General
Frequency Range

UHF: 400-470MHz UHF: 136-174MHz

Channel Capacity

64

Supply Voltage

DC +13.6v ± 15% AC 100-240V

Dimensions(W×H×D)

44 x 483 x 366 mm

Weight

5.8kg
Receiver
Sensitivity

Analogue: 0.18µV (12dB SINAD)
Analogue: 0.16µV (12dB SINAD) (typical)
Digital: 0.18µV / BER 5%

Adjacent channel selectivity

TIA-603: 65dB @12.5kHz / 75dB @20/25kHz
ETSI: 60 dB @12.5kHz / 70dB @20/25kHz

Intermodulation

TIA-603: 75 dB
ETSI: 70 dB

Spurious response rejection

TIA-603: 80 dB
ETSI: 80 dB

Blocking

90 dB

Hum and noise

40 dB @12.5kHz
43 dB @20kHz
45 dB @25kHz

Conducted spurious emission

@≤1GHz: ≤ -57 dBm
@>1GHz: ≤ -47 dBm

Rated audio distortion

<3%

Audio response

+1 to -3 dB
Transmiter
RF power output

5-50 W

FM modulation

11K0F3E @12.5kHz
14K0F3E @20kHz
16K0F3E @25kHz

4FSK digital modulation

12.5kHz data only: 7K60FXD
12.5kHz data and voice: 7K60FXW

Conducted/radiated emission

operating: -36dBm @<1GHz; -30dBm @>1GHz
standby: -57dBm @<1GHz, -47dBm @>1GHz

Modulation limiting

±2.5kHz @12.5kHz; ±4.0kHz @20kHz; ±5.0kHz @25kHz

FM hum and noise

40dB @12.5kHz; 43dB @20kHz; 45dB @25kHz

Adjacent channel power

60dB @12.5kHz; 70dB @20/25kHz

Audio response

+1 to -3 dB

Audio distortion

<3%

Audio distortion

AMBE+2™

Digital vocoder type

ETSI-TS102 361-1,-2,-3
Environmental
Operating temperature

-30°C to +60°C

Storage temperature

-40°C to +85°C