Highlights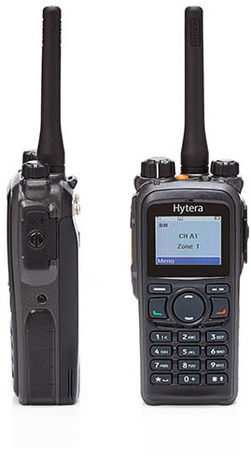 Rugged and Reliable
UL913 rated, Dust and waterproof rated IP67, sustaining performance in harsh environments
Intelligent Design
Easy to use, with a large push-to-talk (PTT), programmable emergency button and keys to initiate communications
UL913 Compliant
Product safety certification to UL 913 Intrinsically Safe Apparatus and Associated Apparatus for Use in Class I, II, and III, Division 1, Hazardous (Classified) Locations
UHF and VHF operation
The PD788(G) UL913 runs nearly the entire frequency spectrum from VHF1: 136MHz to 941MHz
Functions
Larger Li-Ion Battery capacity, longer cycle life
Equipped with 2400mAH and UL913/CSA certificated Li-Ion battery, PD788 UL913 provides with shift life of 18 hours under 5-5-90 duty cycle. And the battery life-span is longer as the charge/discharge cycles reduced.
Secure Communication
Besides the basic encryption of the digital technology, PD788G provides enhanced encryption capability (such as 40, 128, 256-bit encryption algorithm) and the Scrambler feature.
Dual-slot Pseudo Trunk
With this feature, the free slot can be allocated to a member that needs to communicate, effectively enhancing frequency efficiency and allowing you to communicate timely under emergency situations.
Dual Modes
PD788G can operate in either analog or digital mode. It is compatible with the prevalent analog system, ensuring a smooth analog-to-digital transition.
Data Services
PD788G supports data capabilities of sending Privates and Group text message. It also supports Third Party applications to control the radio via Third party API (GPS, Radio Registration Services, Radio and Call Control, Telemetry*, Data Transfer*), via Telemetry control to radio.
Accessories for PD788(G) UL913
Carrying
Charger & Power
Mounting
Audio
Related products that work with the PD788(G) UL913
DMR Systems
DMR Applications
Technical Specifications
General
Frequency Range

VHF1: 136-174MHz; UHF1: 400-470MHz; UHF2: 450-520MHz; UHF3: U3: 350-400MHz; UHF5: 806-941MHz

Channel Capacity

1024 (64 zones with 256 channels per zone)

Digital Protocol

ETSI-TS102 361-1,2 & 3

Battery Life (5-5-90 Duty Cycle)

2000mAh: Analog 10.5 hours, Digital 14 hours

Dimensions (H x W x D)

4.92" X 2.16" X 1.45" (125 x 55 x 43mm)

Weight

12.7 oz (369g)

Display

160 x 128 pixels, 65536 colors 1.8 inch, 4 rows

Keypad

Full Keypad

Programmable Buttons

5
Environmental Specifications
Dust and Water Intrusion

IP67

Humidity

MIL-STD-810 C/D/E/F/G

Vibration

MIL-STD-810 C/D/E/F/G

Operating Temperature

-22° F to 131° F (-30°C to +55°C)

Storage Temperature

-49° F to 185° F (-45°C to +85°C)

UL913 Rating

Class I II III-Division 1, Group C-G, -30°C to 55°C T4; Class I Division 2, Group A-D
Features
RRS

YES

GPS

PD788G only

Telemetry

YES

Option Board

YES

Intrinsically Safe Option

See PD788Ex

Bluetooth Audio

No

Radio Check

YES

Alert Call

YES

Stun / Unstun

YES

Remote Monitor

YES

Priority Interrupt

YES

IP Site Connect

YES

Roaming

YES

5 Tone Signalling

YES

2 Tone Signalling

YES

HDC1200 Signalling

YES

Encryption

Basic encryption is standard (10, 32 & 64 character keys). 40 bit Enhanced Encryption is Standard (R7.5 firmware).